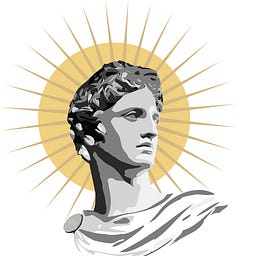 The Gallery of Apollo
B. T. Apollo
Created 24 Jul 2021
Aesthetics and writing from BT Apollo. Learn about graphic design, men's fashion, art history and appreciation, copywriting, business-building, culture, and more. A no-BS college-level education in Humanities…
Latest Posts
No, not this Apollo Gallery. Another one. Let's make this quick, so we can get back to educational and cultural content on the world of aesthetics. I've launched a website for my artwork and more: htt...
Visiting museums isn't just for appreciating aesthetics and history. You can use museums to make decisions and understand your subconscious. BowTiedBull had a fantastic article on this topic. Here's t...
A brand, whether personal or corporate, contains the same elements: cohesive visual system and messaging. A set of values and aspirations. It's the unifying elements that surround you or your business...
To be honest, I'm not a big poetry person. But it's important to understand the concepts behind it. Here's why: Poetry ("verse") is a concise method of written expression. Certain styles conform to di...
Octopod here, very glad to be collab'ing with Apollo. He is crushing the content game on all things aesthetics, art and graphic design. The world needs to appreciate art and beauty more and supporting...