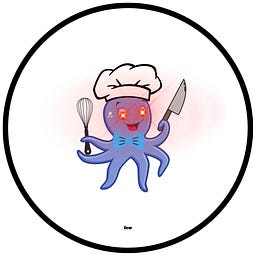 Cooking with Octopod
BowTiedOctopod
Created 13 Jun 2021
Teaching you to eat the best food of your life, by cooking at home.
Latest Posts
Welcome back for a triple-dose of Food & Beverage alfa for you this festive week. 🙌 You've already received a 5-course feast, in two parts, with a complete schedule and order to cook all the recipes ...
We are "wrapping up" 😉 our Holiday Feast menu with two mouth-watering sides that are also simple to prepare. We tackled the 'Big 3' yesterday and these sides are the perfect compliment. On top of tha...
The big day is only 5 days away! 🎄 ⛄️ (or 4 depending on how you celebrate) Regardless I'm dropping a full 5-dish meal set that will thrill your family and guests. First things First: I was honored t...
Most people love good fudge… One of the most popular candy confections around, during the holidays people frequently express their care and affection to others through a box of fudge. 🎁 Since 1921, S...
Is there a more festive beverage than eggnog? 🎄 ❄️ The downer is that store bought eggnog tastes like eggy-melted-vanilla ice cream base, that's been "spiked" with baking spice and yellow food colori...