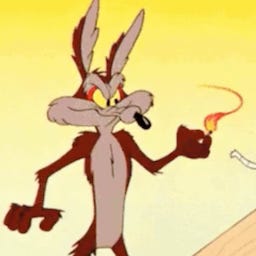 Choire Sicha
Choire Sicha
Created 21 Feb 2020
Let's opt in together emotionally.
Latest Posts
It's an exciting moment for text delivery methods that are not tweets. Perhaps I will make all my mistakes in this "email" venue going forward? The Twitter situation is evolving quickly. When was this...
I had to write about Gawker. I enjoyed it yes but also actually: my very strong belief is that if someone is employed to write things, if editors then suggest that a person writerize a thing, then you...
I am giving my vaccine a daily workout on the principle that a little delta viral load toughens you up and keeps your antibodies in shape. (N.B. THIS IS NOT SCIENCE DO NOT LISTEN TO ME. I already fill...
Tonight I am talking with Rosecrans Baldwin about his new book about Los Angeles. Presented by The Strand and The New Republic, so you know it's extra-intellectual! Who does not want to hear two white...
The only important thing you need to know here: you can get a free, immediate passport photo at 99 Prince Street in New York City. The Rimowa store (say it a little bit German to fit in!) looks to be ...