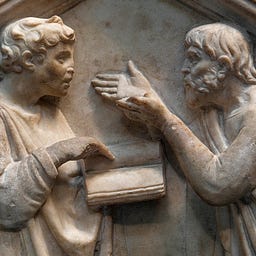 Latest Posts
A recent article by William Deresiewicz exposes the farce that is contemporary academia. What is interesting about Deresiewicz' piece is the way he demonstrates that the ideological rigor of the unive...
The first part of this essay can be found here: A Timeless Course of Study, Part 1 (substack.com) Thanks for reading The Classical Corner! Subscribe for free to receive new posts and support my work. ...
The rise of the individual, with all the political and philosophical connotations implied by this portentous phrase, has long been recognized as one of the great themes of modernity. Burkhardt identif...
Summer is the time for leaping into waves, and no one leaps as heartily – and as recklessly – into things as a child. So it was that on a trip to the shore this summer, my daughter jumped endlessly in...
Unless I am mistaken, it seems that the classical schooling phenomenon has been marked in recent years by a new variousness. As I have become acquainted with some of the different iterations of classi...