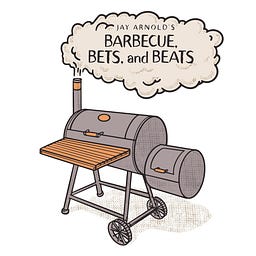 Barbecue, Bets, and Beats
Jay Arnold
Created 31 Jan 2022
A mix of barbecue, sports, betting, and music, plus whatever other nonsense pops into my brain.
Latest Posts
Over the course of 2022 I have been lucky enough to enjoy some absolutely stellar barbecue. We truly are in a golden age for the craft and there are so many unbelievably talented pitmasters producing ...
GOOOOOOOOOOOOOD AFTERNOOOOOOOOOOON EVERYONE! I apologize for missing the newsletter last week as I was in the midst of hunting both a vehicle and a job and it was an entire whirlwind (still job huntin...
Hello and welcome to first ever year in review for Barbecue, Bets, and Beats! We're kicking off this end-of-year series by diving into the music aspect of the newsletter. Because I am terrible at narr...
When I started this newsletter back in January, I had no idea what to expect. Over the course of 2022, we have grown Barbecue, Bets, and Beats from zero all the way up to 714 subscribers. I've had a b...
Goooooooooooood evening to all you wonderful readers of Barbecue, Bets, and Beats. I apologize for the late release on this edition of the newsletter as I had some last minute things come up the last ...