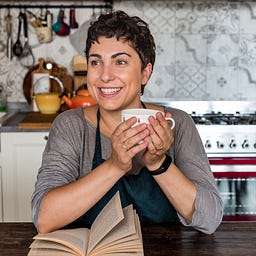 Letters from Tuscany
Giulia Scarpaleggia
Created 24 Dec 2020
Stories from Tuscany, ideas for family meals with an Italian flair and reliable recipes to add to your cooking repertoire.
Latest Posts
The rumbling in my stomach is telling me is lunch time, I don't need to check the clock hanging on my kitchen wall. A quick look in my pantry and I can see my meal coming together as the pieces of a p...
If I could send you a postcard now, it would be that of a woman curled up on a yellow armchair, wrapped in a hand-knitted wool blanket with a pile of books next to her. I am that woman, and it's not a...
This is an exclusive recipe for the subscribers. It is part of a serialized Tuscan cookbook that you will receive over the course of one year, a collection of tested classic Tuscan recipes to add to y...
Today I'm very happy to share this space with Domenica Marchetti, a food writer, author of many cookbooks, including Preserving Italy1 (one of my favourite and most used preserving books), and now als...
Ciao, this is Postcards from Tuscany, a section of the main newsletter Letters from Tuscany. Postcards is weekly, free and everyone can leave a comment. If you want to catch up on previous ones, you c...