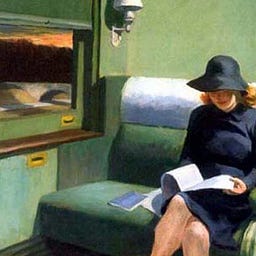 bookcrumbs
Mahika Dhar
Created 22 Jun 2022
We will be dead soon, better read now. And what better way to start (or continue, I don't know your life or reading habits) than with a tiny morsel delivered to your inbox every week. I sneak in with one…
Latest Posts
Fiction, 2018 Right before sitting down to write this newsletter, I was reading an essay for my History Sleuths class. It was about what it means to be in the midst of an event that fails to bear witn...
Fiction, 1932 There are three things I love deeply: funny sentences, gorgeous shots, and absurdist humour. The past week (and a bit before) has not been the easiest time. After feeling incredibly over...
Fiction, 2022 I learnt a new term recently: 'cuffing season'. It refers to short-term love affairs that only last through the winter months. Couples meet come fall, and part come spring. When I Google...
Fiction, 2020 There is no route to escape white men. Luster is a glittery and dazzling exploration of what it means to engage in a sexual relationship with such men. It is written with devastating cla...
Fiction, 2021 Ah, the internet. In the world of the infinite scroll, things are bizarre, sad, and horny, simultaneously. The eyeballs that encounter the screen grow numb, and thoughts stop resembling ...